The use of fall protection equipment (FPE) poses physical and physiological hazards that could result in permanent injury or death to the wearer when used incorrectly or without adequate preparation for rescue after a fall. UCSB EH&S/Industrial Safety has developed the campus Fall Protection Safety Program to manage the safe selection, procurement, use of and safe work practices, inspection and record keeping for all fall protection equipment (FPE). Included are guidelines for identification and correction of locations with fall hazards that may endanger employees, students, and the public.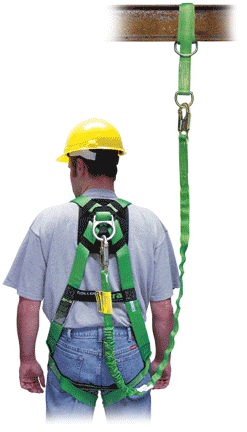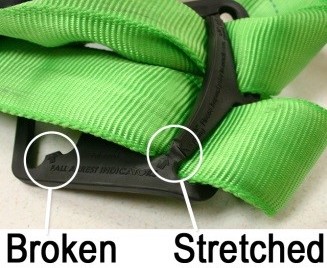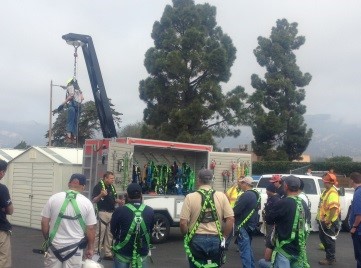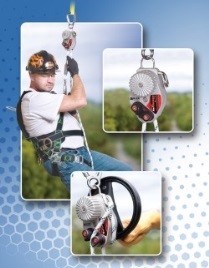 This Fall Protection Safety Program applies to any department on campus, at field stations, or on leased property where any type of activities could result in injuries from falls. The campus Fall Protection Written Program outlines roles and responsibilities for users of FPE (including fulltime employees, contract employees and graduate students performing research related activities in field stations and remote research facilities) as well as those of EH&S in managing this program, and "Owner Departments" that purchase, maintain and manage an inventory of fall protection equipment, and train their personnel on its safe use and proper care. Additionally, this document describes all aspects of secondary FPE use, inspection, personnel accountability for the condition and use of the equipment, safe work practices, training requirements, and record keeping.
Department Responsibilities
The "Owner Department" is responsible to identify fall hazards/activities in their workplace and design into locations engineering controls such as guardrails, fall barriers, edge protection, etc., to prevent access to a fall hazard. Only when engineering controls cannot be used or implemented is FPE to be used to control fall hazards located within in a Department's operations, facilities or designated work sites.
The department owning or exposing personnel to fall hazards are responsible for the selection of the proper FPE based upon a hazard analysis of work tasks. Owner Departments must provide training to their personnel who use the equipment, maintain the records of training completed, and schedule semi-annual inspections of all FPE under their ownership/control. The Department owning the FPE must:
Assign a Fall Protection Program Administrator to manage the Program for the Department
Evaluate all work tasks for potential fall protection hazards
Use engineering controls or administrative controls to eliminate or minimize any fall protection hazards
Provide alternative access when an FPE user determines use of FPE can be avoided through use alternative access or workspace operations (scaffold, lift pod or bucket truck)
Establish a general Rescue Plan and include its adaptation to specific FPE use sites
Notify EH&S/Industrial Safety when new equipment is purchased so that it can be inspected by a certified FPE inspector and added to the EH&S FPE inventory
Schedule with EH&S/Industrial Safety a semi-annual inspection by a certified FPE inspector for all FPE in their control/ownership by calling (805) 893-5407
Render unusable and then dispose of any FPE that is in any way determined to be "unsafe" by a certified FPE inspector or the person using the equipment
Provide training to all personnel using their FPE as required by the "Training" section of the Fall Protection Written Program
Keep/maintain attendance records of all training for a minimum of five (5) years
For further information please contact the EH&S Industrial Safety Program at ehs-industrialsafety@ucsb.edu.