A skid steer loader/tractor is one of the most versatile pieces of equipment for agricultural, construction and landscaping operations. It is designed to maneuver easily in tight spaces and has a variety of attachments to complete multiple jobs. Like many tools, the skid-steer does have drawbacks. Skid-steer loaders are complex and potentially dangerous machines to control. They require the combined simultaneous use of the hands and feet to operate most effectively. During use, the center of gravity shifts as the bucket or attachment is raised or lowered or when operated on a slope. This shift increases the potential for roll over/tip-over incidents. Operators must be aware of the significant blind spots that are present and be aware of the crush hazard inherent in the lifting arms. There are also significant hazards to those working around or near the skid-steer due to the movement of the machine during operation. Other factors, such as ice, mud, and slick work areas, may increase the risk of an incident.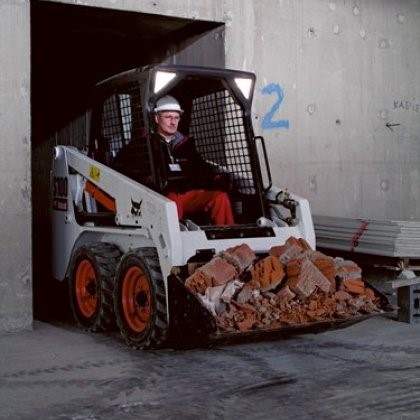 Department Responsibilities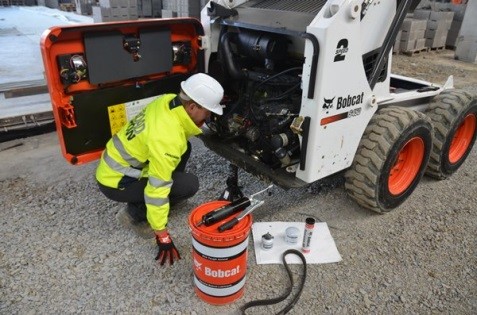 Departments that own, rent, and/or otherwise operate Skid Steer equipment must:
Select and then purchase or rent appropriate equipment for job tasks based upon the work-environment and the completion of a job/task hazard analysis.
Ensure personnel are properly trained, licensed and authorized to operate the specific type(s) of owned/rented equipment, in accordance with established campus guidelines. The department must post a list of these individuals in a conspicuous location.
Conduct documented safety inspections and preventive maintenance of the equipment.
Purchase and supply all required personal protective equipment (PPE) for persons trained and authorized to operate skid steer equipment. This includes: hard hat, safety glasses, high-visibility vests, safety gloves, and safety shoes/boots.
Assure operators adhere to specific safe-work practices whenever using these types of powered industrial equipment including use of personal protective equipment (PPE).
Approve Contractors / Vendors to use skid steer equipment on their premises, and only allow properly licensed contractor / vendor personnel to use Department-owned equipment. Note: Contractors/vendors must have proof of training and licensing to operate this equipment equal to or exceeding the established requirements for UCSB personnel.
OSHA's Code of Federal Regulations Subpart C "General Safety And Health" provisions require skid-steer operators to be trained under CFR 1926.21(b)(2) and CFR 1926.20(b)(4) requirements. The employer is required to train skid-steer operators so that they can recognize and avoid unsafe conditions. Training must be comprehensive enough to ensure that the operator is fully capable of safely handling the equipment in the type of conditions encountered at the work site. Only those who are qualified through training and experience will be authorized to operate this type of equipment.
EH&S/Industrial Safety has developed an Skid Steer Operator Safety Training Program to assure all operators receive a standardized level of training that meets or exceeds the OSHA requirements. Although the controls vary from Make to Make, the safety concepts apply to all. We use the Bobcat® Skid-Steer Loader Operator Training Course materials in this training. The program consists of a 2-hour classroom training session presented in an interactive format covering all aspects of loader/skid steer safety and operation. Classroom training concludes with a comprehensive written exam. Upon successful completion of the classroom training and written exam, an on-site individual practical operating test will follow. This "hands-on" exam will focus on identifying and correcting unsafe or incorrect operating techniques, and pre-operation inspection procedures. Participants will receive practical operator training and practice time prior to the skills proficiency testing. The duration of practical training varies based on equipment type and aptitude of the operator. During the skills proficiency evaluation each operator is tested individually and put through a series of operating tasks and maneuvers to assess competency and safety awareness. The average testing time is approximately 30 minutes per operator. Upon successful completion of classroom and skills proficiency sections of the course the trainee will be awarded a certificate of completion and operator license. They must then be authorized to operate the equipment by the "Owner Department".
For further information and training resources, please contact the EH&S Industrial Safety Program at ehs-industrialsafety@ucsb.edu.